Cantaloupe Truffle Bars with Soy Caramel Sauce
Homemade chocolate is the best! Try these truffle bars topped with chocolate.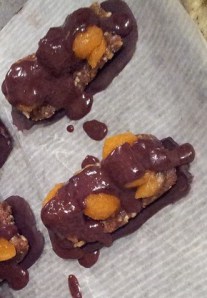 Do you ever think that it would be IMPOSSIBLE to give up chocolate to lose weight? No worries! You can absolutely incorporate chocolate into a healthy diet, and make healthy chocolate snacks and desserts without putting on a pound! In fact, you will LOSE weight quickly if you learn how to make plant-based chocolate treats (i.e. vegan chocolate) like these truffle bars. Why is plant-based and vegan chocolate better? For one, most milk chocolates are high in fat, and typically include "milk fat" as a key ingredient. Secondly, dairy is the MOST common food allergy in the United States, especially in infants and children. Typically, adolescents and adults don't realize they are allergic because their bodies have gotten used to having high quantities of milk in their diet over the course of several years. http://www.foodallergy.org/allergens/milk-allergy
First melt some dairy-free chocolate over a double boiler, drizzle it onto wax paper into rectangular shapes. Then, allow the chocolate to cool while heating up non-GMO soy milk, sweetener and corn syrup on the stove. Then, put hazelnuts and dried pitted dates in a food processor. Mash this into the shape of a granola bar and place onto the cooled chocolate rectangles. Grab a small scooper (or even a measuring spoon) to make melon balls from a cantaloupe. Place melon balls onto the granola bar, drizzle more dairy-free chocolate sauce on top, then dip in soy caramel sauce on the side.
For the full recipe, get this amazing book or email me to send you a photo of the recipe by: Great Chefs Cook Vegan
For more tips on Vegan Nutrition, try Online Nutrition Coaching at Kelly Athletics.
Contact Me for More Info: