Description
Fitness Calculator for Nutrient, Weight, and Goal Calculations
with Kelly Athletics' Fitness Calculator Tool
Looking for answers on what to track daily and how much you need to eat to reach your goal weight? Based on current information about your fitness level, my Fitness Calculator can calculate and then I can provide a goal summary for:
How many Calories to eat per day AND per meal
The Percentage of Proteins, Fats, and Carbs
Exercise and Heart Rate to optimize fat burning
Ideal Hip and Waist to achieve overall health
Current vs Ideal Fat Mass and Lean Body Mass
Realistic Time to Achieve Desired Weight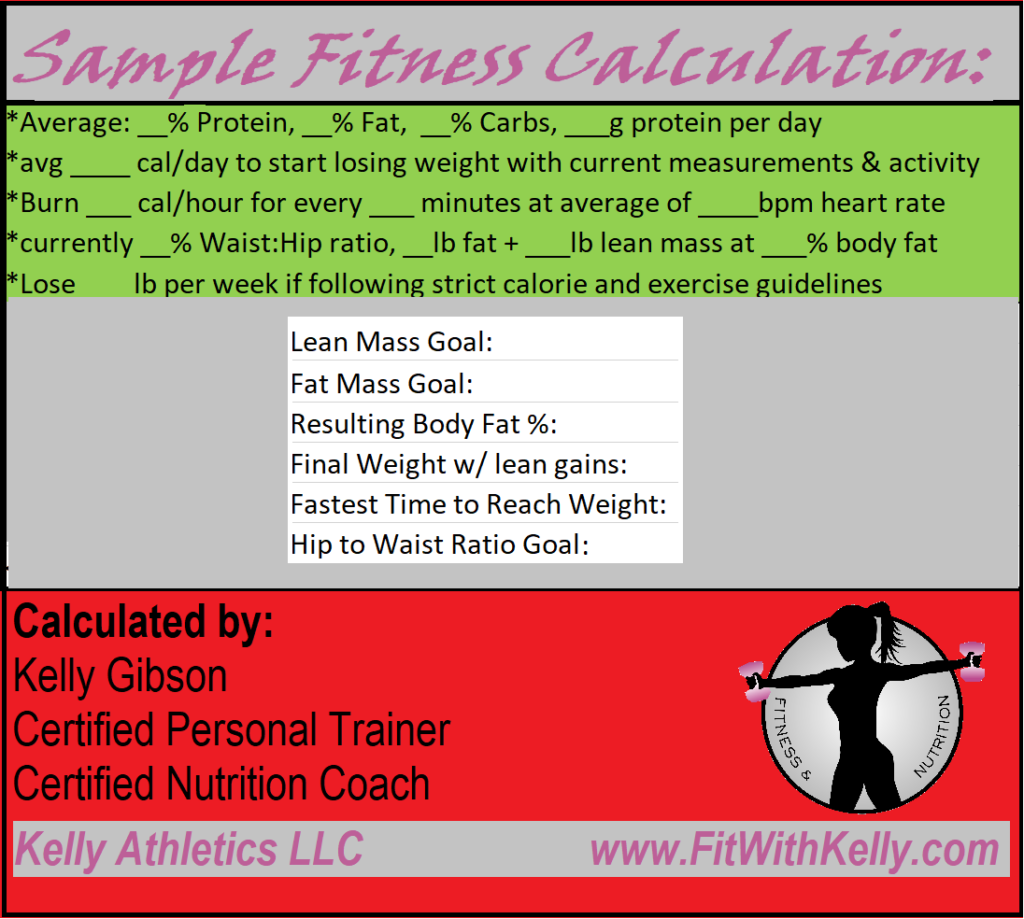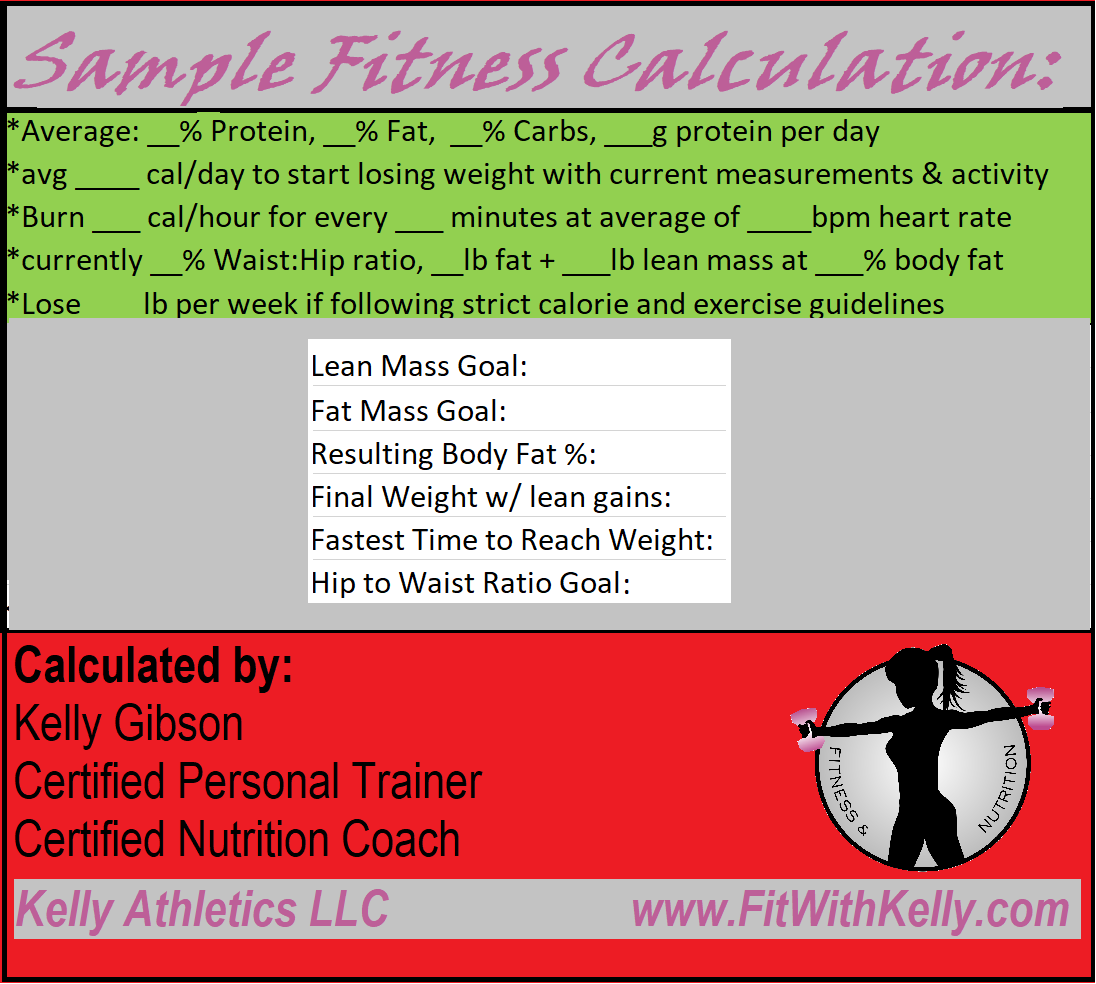 This is NOT the same as standard Calorie Calculators:
Typical calorie calculator tools (such as myfitnesspal) are teaching people to undereat calories and overeat protein. Many popular tools take a "one-size-fits-all" approach with macronutrients. With my calorie calculator, I customize goals based on your very UNIQUE and individualized needs.  With your purchase, you will receive complementary instructions on how to measure your body fat composition at home. Not only do I factor in your current body fat measurements, but I will send you a calculation questionaire that will help me create goals based on your habits and skills at this very moment.  I am creating goals based on scientific equations that have proven results! Through my certifications from the National Academy of Sports Medicine (NASM) and Precision Nutrition (PN), I utilize equations that are recommended for professionals to use for Nutrition & Fitness clients.  The values I give you are NOT one-size-fits-all and could be completely different from someone else who is the same size as you!
Update your Fitness Calculations Every 4 Weeks:
Diet and exercise takes time, effort, consistency, and knowledge that cannot be learned overnight. Without a program or accountability in place, you're unlikely to follow a strict plan to achieve your goals. Even if you are following these calculated goals 80% of the time, you may struggle to achieve your goals within the desired time frame. Or, if you hit your goals just right, you may start to lose weight rapidly but then plateau when your metabolism needs revamped. Every time you gain or lose 5-10 pounds, any time you change your diet, and/or anytime you adjust your exercise intensity, your body will require a different amount of calories, proteins, fats, and carbs.  This is why I recommend that we update the calorie calculator every 4 weeks to keep you on track.  This program can be purchased in 3 month, 6 month, or 12 month options depending on how long it should take to achieve your goal.  As you work toward your goals, I keep you accountable and on track.
If you have questions, text 480-270-49six8 or contact me below to set up an appointment. I offer a free 15-minute consultation to answer Add product gallery imagesquestions and help you select a program that matches your goals.  Need a diet and exercise plan to follow? Use these calculations as part of an all inclusive Personal Training or Recipe Plan.  I can customize a workout and recipe plan to make your life easy.
So, why wait? Try our Fitness Calculator today to get started on your journey right away.